Social Media fever is on everyone nowadays be it any age group and all they crave on being social is capturing unique and beautiful photographs.
Not everyone can afford a DSLR Camera; however, our mobile phones are super blessed still.
Here, we present 10 amazing mobile apps that can bring you out as a Pro Photographer whether you have an iPhone or an Android device.
1. Photoshop Express
Adobe Photoshop can be called in for one of the pioneers of the Photoshop software since its launch for the desktop applications.
Photoshop Express is nowhere like a complete desktop application of Photoshop still it equips you with over 80 filters to edit photographs like a pro.
2. Adobe Lightroom CC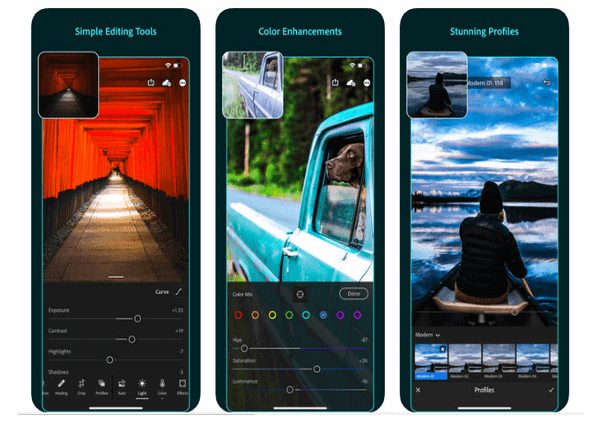 After Adobe Photoshop, Adobe release of Lightroom won the hearts of even novice photographers.
Offering you numerous editing tools, it helps you combine photographs and bring out details with the help of HDR function.
The app offers you manual control on the focus and lighting feature while shooting/clicking.
Also, offers you most of the expected editing features for lighting and colour adjustments and a set of lavish pre-sets and curves.
It allows you to make corrections for geometry and vignettes based on lens-profile.
Adobe Lightroom CC app is available for iOS, Android and Windows devise. 
3. PhotoDirector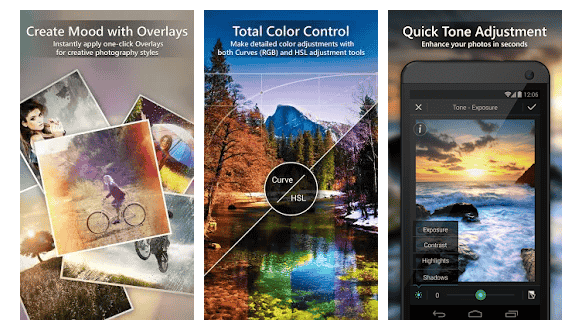 As the name itself suggests, this app directs your skill of photography and photo editing with simple to use yet great editing tools.
PhotoDirector's in-app camera feature allows you to make artistic changes at the same time when you are clicking the photographs.
It allows you to remove the photobombers and useless objects with the help of the Content-Aware tool in it.
Allows you to edit like an artistic pro with the help of Vignette, HDR, Lomo and much more.
PhotoDirector mobile app is available for iOS, Android and Windows.
CREDITS: Naijatechguide